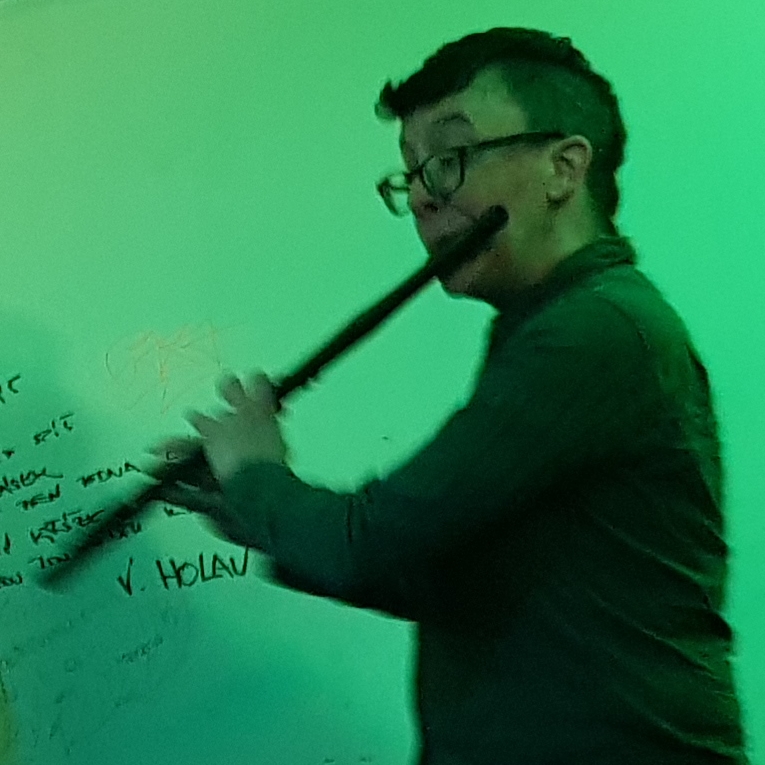 Flutist, composer, and improviser Andrea La Rose makes cute songs, difficult chamber works, and weird noises. Originally from the mill-and-mall town of Nashua, New Hampshire, she began her formal musical training began at age 7 with private flute lessons. Since then she has obtained a Bachelor's degree in music education from the University of Massachusetts at Amherst, a Master of Music degree in composition from The Boston Conservatory, has gone on exchange to Freiburg Germany twice, and obtained her doctorate in composition at CUNY's Graduate Center in 2012. She has studied flute with Joanne Tanner, Dan Riley, and Marianne Gedigian, and composition with Karen Tarlow, Larry Thomas Bell, Tania León, Bernadette Speech, and David Olan.
Andrea composes actively with ensembles Anti-Social Music (NYC) and her own trio Let's Exist (CZ), and has also been musically involved with The Army of the Arts (CZ), thingNY (NYC), A/B Duo (TN/CA USA), Lone Wolf Tribe (NYC), and Wild Rumpus (SF). Back when she was under 40, NPR named her as composer-under-40 you should know. Print and online publications from Chamber Music America, to New Music Connoisseur, to Dusted have said lovely things about her fluting and composing prowess. Her music has been performed recently in New York City, San Francisco, Park City UT, Ann Arbor MI, Adams State University (CO), Kuala Lumpur, and Prague.
Her fluting has been heard on prestigious subway platforms in Boston and New York, and on cd with Anti-Social Music, World/Inferno Friendship Society, Dirk Stromberg, Mohair Timewarp, and His Name Is Alive. An avid free-improviser, Andrea has performed with vocalist/multi-instrumentalist Paul Pinto (NYC), guitarist Nicola Hein (Köln), bassist Jonathan Robinson (Berlin), violinist Tom Swafford (NYC), sound artist John Jannone (NYC), violinist Jeff Young (NYC), keyboardist Darrell Jonsson (Prague), and in a trio with pianist Bernadette Speach and guitarist Jeffrey Schanzer (NYC).
Presently she is based in Prague, where she has been performing klezmer with the Pražská Jidiš Kapela and frantically composing between Czech classes.
"Prolific and an expert performer, she's bouncing among a dozen good ideas, and wherever she lands will doubtless cause merriment, consternation, insight, and possibly the End of Civilization As We Know It."
— Kyle Gann, artsjournal.com